I've been running soldering workshops for a few years now, and along with Mitch Altman, we've taught thousands of people to solder. I've used everything from $1,000 re-work stations to $1 irons bought off of eBay. I get asked quite often what people should buy for themselves, or what they should be buying for their hackerspace for running workshops. Honestly, once you get above a certain quality level of iron, it doesn't matter for through-hole soldering. You can get good soldering joints from irons that cost less than $10 quite easily. I do however have a few suggestions.
Lady Ada has a good page with quality irons and equipment. If you have money, you should get some of the stuff listed on that page. I personally use the WES51, and I love it. I've got tons of tips for it, and it allows me to easily do SMD work with it. However, if you are teaching workshops, you don't need anything like that. Also, if you are just want to build some through-hole kits you've purchased, then there is no real need for such an iron till you need it. If you've got the money, go for it (it's worth it), but otherwise you can get by with much cheaper stuff.
Probably the biggest thing that makes soldering easier, is solder with lead in it. Over all, it's less toxic, and it's easier to work with. Seriously, the lead-free stuff has some nasty fumes. You need a hotter iron, and the flux burns off quickly, so there is little time to re-work a solder joint. If you can get reagular 60/40 tin/lead rosin core electronic solder, then do so. It will save you a lot of headaches, both from ease of helping people, and from the fumes being far less severe. Regardless, you should have some kind of ventilation going while soldering, or when a workshop is on. Just wash your hands afterward (regardless of the solder being used).
I've found that MPJA offers decent quality equipment for a good price. It's not great, but if you maintain it, then the irons and clippers will last you for years. This is the equipment I've been buying for my own workshops for a while now, all from MPJA. They have an absolutely perfect workshop soldering iron: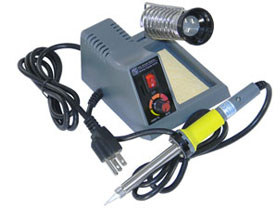 This is a great intro Soldering iron and general workshop iron. Some of the things I love about this iron: it has temperature control, a built in stand, and cheap replacement tips. Plus, it only costs $15! My favorite thing though, is that the cable plugged into the wall is not the same as the cable going to the iron handle. That means that you don't need power strips on the table, and it greatly reduces clutter on workshop tables. I've got a dozen of these, and I've never had to replace a tip, just the sponges. You can also buy replacement irons and reuse the bases if someone burns through the cable.
For a good workshop setup, you should have one of these for each person if possible;  a  Soldering iron with a stand and sponge, Flush Cutters, helping hands, and solder (I buy it in the 1lb rolls). You will also need some tip tinner/cleaner, which you can get at various places online, or even at a local Radio Shack. It's nasty stuff, but you've got to have some to restore the tips. A brass tip cleaner is super helpful along with the tip tinner. It's also really helpful to have a couple extra flush cutters, and probably a pair of needle nose pliers for every other person (though I have one for each person). Extra sponges are a big help. I have no idea where they go, but I lose one nearly every workshop. A solder sucker or two is helpful, but not necessary. Also, whether it is for you or a workshop, you will need a multimeter, and MPJA has a selection of them.
You should be able to get everything for about $25 or less per seat, and the equipment will last for years. If your hackerspace doesn't have the funding to have more than a couple of these, don't let that hold you back from running a workshop, because it's a great way to fund-raise. Encourage people to bring their own equipment. Also, people are understanding when you are starting out, and are willing to share equipment, especially if they are building the same kit.
During a longer workshop, there are a few things that you can do to make sure that the equipment stays in working condition. First, if you are working with leaded solder, then keep instructing them to add a bit to the tip before they place it into the holder. That leaves a coating around the tip that will keep it from oxidizing, and is easy to wipe off. If you notice someone having problems with a soldering iron, check the tip, it will probably be black. People will generally turn their iron up to max once this happens, because it stops melting solder, and that just makes it worse. Turn their iron down to about 3/4, and pull out the tip tinner and clean the tip. That should get 75% of the people back on track, the rest will need a bit more work with a brass tip cleaner and a few baths in the tip tinner. Encourage them to put some of the leaded solder onto the tip (or if it's lead-free, to wipe it off) before they put the iron back into the stand. Once an iron is no longer in use, coat the tip tinner and turn it off.
Hopefully this is helpful to both hackerspaces and home hobbyists. At some point, Mitch and I will get around to posting some how-to soldering videos. If you have any questions or suggestions, please leave comments.